**UPDATES TO ENLISTMENT GIFTING EVENT:**
To prevent exploitation, we will prevent new Accounts from being able to Gift enlistment crystals. We will also be taking action on those who are using 3rd Party Sellers, Bots and other farms to gift themselves mass amounts of Enlistment Crystals. Lastly, we will be adding an expiration timer to Enlistment Crystals. All unopened Enlistment Crystals will expire on Oct 18 @ 17:00 UTC. For more information, please see this post:
https://forums.playcontestofchampions.com/en/discussion/346104/updates-to-enlistment-gifting-event
Nerfing Champs.....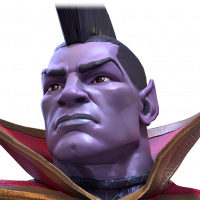 Hittched
Posts: 9
★
Bit of a rant, but please bear with me.

The MCoC community kills me. There is such a big divide between the haves and the have-nots and it's making the community as a whole, weaker.

Anyone who has been around since the beginning knows that Kabam has a variety of strategies in place to get the community to spend. One of the strategies that's worked very well for them so far is to introduce content in the form of characters or nodes that are flat out tough to deal with. Champs like Magik, NC, Dormy, Mephisto, Modok, and now to a certain degree Void are money pits in AQ, Events, and AW.

I'm sure a lot of you remember the uproar about how Magik's limbo was overpowered, Dormy's degen was unfair, Mephisto's healing is insane, this node is bs....yada, yada, yada. You all need to realise that Kabam keeps these money pit strategies in place for a period of 1 to 2 months, and then introduces a means for summoners to deal with them more easily. These means are usually in the form of new champs. New characters that can deal with these "unfairly overpowered money pit champions". New champs that are themselves also money pits because Kabam makes them powerful so that they are highly desired by the community.

Enter Blade. Now let's face it. The goal of most everyone in the community is to 100% all content as cheaply as possible right? So instead of applauding someone's luck or tenacity (by saving shards) in obtaining a character such as Blade, people call for a nerf of the character. I also wouldn't doubt that these are the same people who are the most vocal about the "unfairly overpowered money pit champs". You know who you are. Acting this way only allows Kabam to line their coffers by giving them a reason to take away our means of not spending as much. I mean think about it, who are you really helping by saying a character should be nerfed? Your AW defenders? You must know by now that AW is another money pit for Kabam.

Blade is a powerful character indeed. In my opinion not as powerful as SW pre-nerf, however his skill set and abilities make him arguably the best champ "at the moment". I stress at the moment simply because the next new "unfairly overpowered money pit champ" is right around the corner. So for those of you calling for a nerf, be careful what you wish for, as you'd better have some deep pockets to deal with Kabam's latest and greatest money pit introductions.

As a disclaimer I have to say that Kabam is a business, so even though their strategies for making money may seem unscrupulous, I do admire and applaud them for the success that they have achieved thus far in their business operations.