WHY kabam, seriously?!?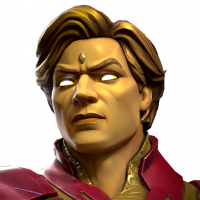 ADDZZ
Posts: 71
Next week, you guys are adding Spider Gwen and Luke Cage to the 5* crystal.

There isn't a single player in this game who would attribute any usefulness to either of those champs. There isn't a single champ I WOULDNT take over either of those 2.

You're also including groot, Netflix daredevil, venom and Jane Foster to the crystal. They're a step above Gwen and Luke Cage, but they're still mostly useless.

Now I understand you guys hate god tier champs, and want some form of balance. But on the opposite end of the spectrum, you guys just **** all over us. You release garbage champ after garbage champ and its increasingly obvious balance isn't your aim. If it were, every champ would have a use. How can you justify balance by throwing 2 champs (Gwen and cage) into the 5* crystal, who absolutely suck on both offense and defense? Neither of them are even useful for questing. Even their synergies suck!

5* crystals take too long to save for to end up with this rubbish. I won't even mention IP, hulkbuster, ant man, 2 cyclops (as useless as eachother - why??!!?!?), among other filth that already inhabits the 5* crystal.

Come on seriously... Give your players a damn break.