Uncollected. As good as everyone says?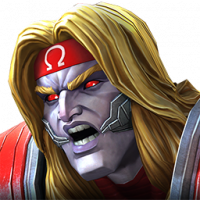 BitterSteel
Posts: 2,895
★★★★★
I see a lot of conversation on the forum that in some way, shape or form claim immense superiority over lower players simply due to being uncollected. I wanted to make a post that just discussed this concept, since every few days there is a post that says something like: "Uncollected players should get better (insert item/crystal/champ)" or suggesting compensation, rewards or the like should be gated behind being uncollected. I.e uncollected players should get more because they are uncollected.
As a general disclaimer I am not saying that uncollected is worthless, I am not saying the collector is an easy fight and I am not saying that it is easy to become uncollected. I am also not taking anything away from someone who is happy that they've defeated the collector and feel like they've overcome a challenge. All I'm saying is, there is a point when it goes to far.
So, what do I mean? I think that the benefits of becoming uncollected, I.e, 4 hour crystals, daily crystals, log in crystal, FGMC, event quest etc are all pretty much in line with the challenge that is required to become uncollected. But, I'd also argue that becoming uncollected does not require an incredible amount of skill, or a hugely advanced roster.
Becoming uncollected only requires a singular mindset: This is going to cost me revives.
Once you understand this, that the collector is the single most "designed to kill you" fight in the game, you will become uncollected easily.
Now, I won't lie. When I became uncollected, I did have a fairly advanced roster with r3 5* and r5 4* and a couple r4 5*. So I was perhaps, beyond the average player who takes on chapter 2. This was because when the content was released I already had those champions, so I took it on without a huge need to advance before fighting it.
So, because of this, I decided to try and become uncollected on a second account. I already had one knocking around that I'd started 8 or 9 months ago, then played for a month on it, got to act 3 and got bored. When I started going for uncollected at the start of July I had 5 or 6 maxed 3* god tiers and a bunch of 2*, a couple of 4* too.
Around the start of July I started playing more seriously on the account again and got a few more 4*, ranked them up and made my way through act 4. I pulled a fair few very good champions as 4* which clearly helped. I did almost 0 arena, Aw in the same alliance as my main account (which was in a retirement one) and minimal Aq. I obtained four 5* (Drax, Cap America, She hulk and Star Lord), but none of them were majorly helpful or good so I stuck with a team of 3/30 and 4/40 champs.
At the end of August last week I made my run. My team was all 4*.
- Hyperion Rank 4 Level 40 Unduped.
- Star Lord Rank 4 Level 40 Sig Level 24
- Iceman Rank 3 Level 30 Unduped.
- Gladiator Hulk Rank 4 Level 10 Unduped.
- Sabretooth Rank 3 Level 30 Sig Level 20
I had 1 Level 3 team revive, 4 Level 2 single revives, 2 Level 1 single revives in my item stash. Along with an assortment of L1 and L2 health potions. The majority of the revives were used up in the paths to the collector, leaving me with the Level 3 team and the Level 1 single to face the collector. Additionally I had 450 units saved up purely from questing and calendars, I haven't spent anything on the account.
It took all of my revives and units to take him down but in the end, with 440 units and maybe around 500 units worth of free revives from halls of healing and calendars my second account became uncollected.
And this is why I say that uncollected is not that big a deal. I am not an incredibly skilled player, I can fight, take down bosses, do Act 5, LoL with fairly few revives but I am not the best. So you don't require skill to become uncollected. And the screenshots below of the roster I used to become uncollected proves that you don't need stacked champs to become uncollected.
So this is why I don't think Uncollected players deserve any more benefits than they already get. The event quest each month is full of insane rewards, this is the bulk of the benefit of becoming uncollected. Then a few extra bonuses with the calendar, crystals FGMC and daily's etc.
If becoming uncollected can be broken down into 3 months of work (1 month when I initially played the account, then the 2 months when I resumed), where there's no arena grinding, minimal activity required and no money spent. Only an attitude that you need to spend units on the right masteries, and then save for revives instead of buying crystals. Then why do uncollected players need more advantages?
Just look at Seatin's ftp account, he got uncollected in 3 months too. While uncollected is a great title, and leads on to many great things: I just don't think it's a good measure of splitting up players as you're good, and you aren't. I hope this post inspires some people teetering on whether they're ready for uncollected, to make a push for the collector. I can give mastery, roster or unit advice if needed.
What does anyone else think?