**UPDATES TO ENLISTMENT GIFTING EVENT:**
To prevent exploitation, we will prevent new Accounts from being able to Gift enlistment crystals. We will also be taking action on those who are using 3rd Party Sellers, Bots and other farms to gift themselves mass amounts of Enlistment Crystals. Lastly, we will be adding an expiration timer to Enlistment Crystals. All unopened Enlistment Crystals will expire on Oct 18 @ 17:00 UTC. For more information, please see this post:
https://forums.playcontestofchampions.com/en/discussion/346104/updates-to-enlistment-gifting-event
**KNOWN ISSUE**
We have adjusted the node placement of the new AW maps to better allow path traversal. As a result, defender placements have been reset. Please, take a moment to re-place your defender setup. We will be pushing out a message in-game shortly.
Great synergy team for OML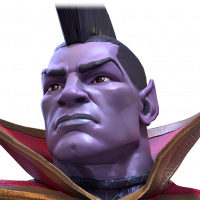 AlexAvalon
Posts: 653
★★★
For anyone who wants to try out logan in some quests i thought id share the team ive been using bc it makes playing him really fun, a little bummed about the bugs after all the tweaking and testing but im still having a blast playing him.

Been using him with nick fury and cap marvel movie which gives him 20% increased fury duration and 10% attack but with the increased duration its possible to keep the furies up from sp2 to sp2, it feels like the duration his furies should be just on their own but it makes a big difference... And then colossus and domino which lets him start with a bar of power as well as 12%fury and regen potency. Works great for questing just messing about in act 5. Starting with 1 bar lets u get to a sp2 quick and its easy to launch it with 15 passives and if it crits the fight is either over or a combo or two more and its a wrap. Mostly, its just plain fun, thought id share as its night and day using him by himself and with the full synergy support team. Has anyone else found any good teams for him??