Guillotine 2099's Damage Not Scaling With Suicides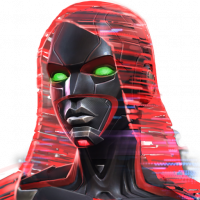 simula67
Posts: 45
★
Guillotine 2099's combo-based energy damage is not scaling consistently with different types of increases to her base attack.
Her ability text says that the energy damage on every combo hit at and above 100 starts at 51, and specifically states "scaling with base attack":
With a normal mastery loadout, suicides off, I saw the correct damage (51) at combo 100:
I then turned on suicides, which provide a 67.2% increase to base attack. I expected to see the energy damage
start at 85, not 51. I was surprised to see that the damage is still starting at 51:
A bit confused, I turned suicides off and then raised her base attack by 18% by adding Ant-Man and two Yellowjackets to the team. This time her energy damage
did
properly scale, starting at 61 at combo 100:
It appears that G99 is broken when it comes to the attack increase offered by suicide masteries. This doesn't seem like it's intended. In her champion spotlight, these masteries are specifically called out as recommended for her:
There is no appreciable difference to her damage with suicides on than when they are off, because she does not naturally crit. In my testing, the number of hits to kill Labyrinth Star-Lord are barely different:
Without Suicides: 430 hits
With Suicides: 417 hits
Can we get some confirmation on why her damage is scaling inconsistently between different types of increases to her base attack?
TL:DR