I've figured out how the champs are categorized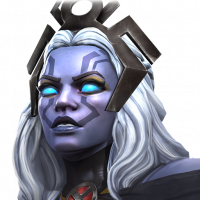 Pin_the_AvengerPGT17
Posts: 251
★
Marvel Contest of Champions is a great mobile game where you can collect and battle with your favorite marvel characters... ya da ya da ya da.
Mcoc does have its bugs and stuff like that, but it also algorithms to keep it from leaning into a mess... AND I believe I've discovered one of them.
We all know the RNG and other computer stuff that Kabam tell us. We also know that the champions are categorized into 6 different classes. Technology. Mutants. Skill. Science. Mystic Arts. And Cosmic.
What Kabam do is find out what the champions main fighting skill is or where it comes from in the comics. No Surprise There.
I do agree that Iron Man is a tech class and Colossus is a Mutant and Dr Strange is a Mystic. What confuses me is from the right off the bat are champions that probably don't belong in their respective classes... like Wolverine in the mutant class, because he is fighting with his claws... (Science oriented).
More on that in an upcoming video on my channel. What I was meaning to get to was the abilities. Each Class is special on their own with their champs having abilities related to that class.
Technology is a class of armor and armor break. They're self explanatory.
Mutants were a little hard because they all are unique in abilities to eachother, but they have strength through they're SPECIAL attacks. I have 2 examples:
1. Havok: his strength is in his strong damage output through specials
2. Omega Red: his sp2 activates the famous death field that is also produced when he bleeds, but he needs sp2 for champs that don't cause bleed.
Skill haven't special skills, so they work around the opponent and break through the smart route.
Science champs are reliant on weakening the opponent. More on that in my upcoming video.
Mystic Arts champs just disregard buffs on the opponents Or in Guillotine's case... steal the opponents health.
Lastly... the over powered class... The Cosmic Champs like to bully into submission and overpower... with great power comes great responsibility.
If You want more proof... I'll make a video or 2 about it. Please comment your thoughts.