Summoners, due to a technical issue, this week's series of Alliance Quests will be cancelled at 4pm PT. There will not be any Rewards for this series. The next series of Alliance Quests will start on April 18 at 12pm PT. We will be assessing the impact on Alliances and compensating accordingly, as well as returning Alliance Tickets.
What is the coolest heavy attack in the game?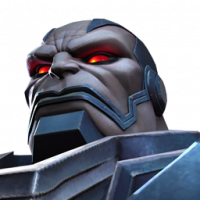 KDSuperFlash10
Posts: 5,641
★★★★★
To me, it would have to be Thor (Classic). It is so unbelievably satisfying to just swing that mjolnir again and again and smack the s**t out of the opponent. I was thinking yesterday that a cool ability added to Thor (Classic) would be that the longer he keeps his heavy attack swinging, the more damage it will do (kind of like Hela and how the longer she holds her heavy attack the more she gains fury).