**UPDATES TO ENLISTMENT GIFTING EVENT:**
To prevent exploitation, we will prevent new Accounts from being able to Gift enlistment crystals. We will also be taking action on those who are using 3rd Party Sellers, Bots and other farms to gift themselves mass amounts of Enlistment Crystals. Lastly, we will be adding an expiration timer to Enlistment Crystals. All unopened Enlistment Crystals will expire on Oct 18 @ 17:00 UTC. For more information, please see this post:
https://forums.playcontestofchampions.com/en/discussion/346104/updates-to-enlistment-gifting-event
**KNOWN ISSUE**
We have adjusted the node placement of the new AW maps to better allow path traversal. As a result, defender placements have been reset. Please, take a moment to re-place your defender setup. We will be pushing out a message in-game shortly.
Your First Challenge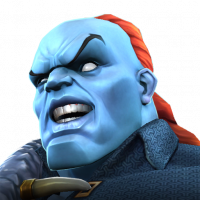 The_Champion
Posts: 5
★
Welcome summoners to your first challenge.

This challenge is called the daredevil challenge
It is rather simple. You must beat ROL Winter Soldier wearing a blindfold. The way to win is by sending evidence of your total health at the end of the fight. I hear you ask, "how will I know what to do", ask yourself this, what does Daredevil use?

Rules, I want this to be a fair challenge so no cheating!
1. Must not use a R3 6*, they're only available to a small amount of players at the moment
2. Must not use suicide masteries
3. Must not use boosts
4. Must not use health potions

I have created a points system, you get 1 point for every 1% health you are on when you beat ROL WS (maximum 100), you gain 20 points for every rank below a 5/65 5* (or equivalent) you use and you gain 50 points if you beat the challange with a champion that nobody else has said that they were going to use on this thread.

Good luck summoners!