Your First Challenge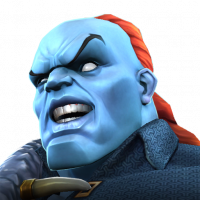 The_Champion
Posts: 5
★
Welcome summoners to your first challenge.

This challenge is called the daredevil challenge
It is rather simple. You must beat ROL Winter Soldier wearing a blindfold. The way to win is by sending evidence of your total health at the end of the fight. I hear you ask, "how will I know what to do", ask yourself this, what does Daredevil use?

Rules, I want this to be a fair challenge so no cheating!
1. Must not use a R3 6*, they're only available to a small amount of players at the moment
2. Must not use suicide masteries
3. Must not use boosts
4. Must not use health potions

I have created a points system, you get 1 point for every 1% health you are on when you beat ROL WS (maximum 100), you gain 20 points for every rank below a 5/65 5* (or equivalent) you use and you gain 50 points if you beat the challange with a champion that nobody else has said that they were going to use on this thread.

Good luck summoners!