**KNOWN ISSUE**
An unknown error has resulted in Grandmaster Gauntlet progress being reset for a portion of our playerbase. As a result, we will be temporarily removing the Grandmaster Gauntlet as a playable mode. The mode will be reinstated when the team has resolved the issues.
**KNOWN ISSUE**
There appears to be a bug causing missing VFX (visual effects) for a number of elements including traps, phasing and some blocking animations.
The team is aware and looking into the cause of the issue.
Who did you guys use for Canadian Difficulty LongShot?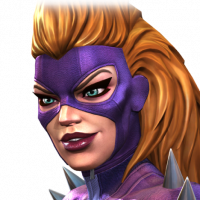 BadPullsMarco
Posts: 342
★★★
Been stock for about 45 minutes, tried just about every champ from ghost - Gamora, no one is sticking buffs long enough to not get nullified by him, super frustrating.