**UPDATE**
We are currently working to fix a known issue regarding Alliance Prestige. With the introduction of Relics, Summoner Prestige is now the average PI of your Top 5 Champions and the average PI of your Top 5 Relics (regardless of which Champion they are attached to) combined.

Today we pushed a fix that will allow for proper reward calculations in Alliance Quests. However, the display for Alliance Prestige will not be accurate and does not include Relic Prestige. This is a display issue only.

**KNOWN ISSUE**
Some items are displaying erroneous star ratings. This seems to be happening most on items where typically there are no star ratings. We have found the cause for the issue and it will be resolved, targeting mid-late next week.
Aegon Persistent Combo Bug [Title edited for clarity]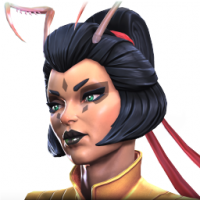 AnonymousPlayer
Posts: 22
★
Aegon is bugged after the newest update. I'm currently in Abyss of Legends with Aegon's persistent charge at 999. At the start of the fight, he triggers his unstoppable/unblockable/true accuracy/fury buffs just fine. But if you get hit even once, he loses the ability to trigger those buffs.

As you know, getting hit with Aegon is one of the main ways to ramp up his damage. I wasted many revives on Punisher 2099 and currently on Loki. While waiting for this to get fixed, I'm missing rewards from all other events like Herald. Am I going to be compensated for lost rewards and wasted revives??
Post edited by Kabam Zibiit on