**UPDATE**
We are currently working to fix a known issue regarding Alliance Prestige. With the introduction of Relics, Summoner Prestige is now the average PI of your Top 5 Champions and the average PI of your Top 5 Relics (regardless of which Champion they are attached to) combined.

Today we pushed a fix that will allow for proper reward calculations in Alliance Quests. However, the display for Alliance Prestige will not be accurate and does not include Relic Prestige. This is a display issue only.

**KNOWN ISSUE**
Some items are displaying erroneous star ratings. This seems to be happening most on items where typically there are no star ratings. We have found the cause for the issue and it will be resolved, targeting mid-late next week.
Group of 5 seeking 5x5 and gold 1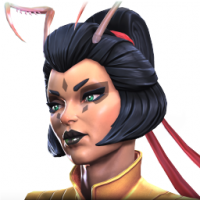 Jcross_40
Posts: 63
★
Damnit all! The alliance we joined recently and finished gold 2 with, just decided that they're taking a break next season. We're leaving on good terms, and will be departing after aq and aw rewards drop. We're a group of longtime pals and solid players who have good prestige, active, and kill many bad guys in this game. We'd like to be in a gold 1 alliance, and maintain the ease and comfort of map 5 mixed in with some really stupid mods like "parry curse" to ever so slightly boost our rewards. Or not. We want a long term home. We're starting to feel like alliance whores. We're ready to settle down with that right alliance and enjoy some long walks on the beach, and cuddle up next to a warm fire so we can tap and swipe on our mobile devices with other grown men throughout the country...nay...the world! So go ahead and kick out those 5 low-lives that keep using those tired excuses about "having a life" and "it's just a game." You know the ones - sitting dead in section 2 of AQ with 15/15 items left and 8 hours between logins. You see that last war they played - joining mid war and charging headlong into that redoubled determination fight with their r4 archangel. You see them. It's time. Boots to asses. And let us come home and make your alliance a lot better. In short...let's touch butts. Mcoc style. We're ready to settle down. Shoot me that line message at jcross40, and all of your dreams will come true.

Any reproduction of this post or any follow-up comments without the expressed written consent of Major League Baseball is strictly prohibited.