**KNOWN ISSUE**
Currently, Alliance Prestige (as it concerns Alliance Quests) is not taking Relic Prestige into account. If possible, we are working to address this for the next round of Alliance Quests but will have more information for you when it is available.
the game performancr is at unacceptably low levels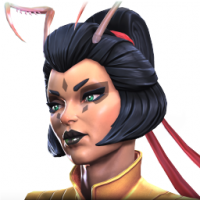 Tox1k
Posts: 1
This game used to be a much more than entertainment a few months ago but I am sorry to say that it has become a stack of garbage recently. I have been playing it for last two years but this is the first time I am forced to turn to these pages to register my protest.
It seems as if kabam has been turning into a beast, a vampire, of its own but rather than the blood its the dollars they are feasting on. You already got a way to earn by offering units and other in game bounties but now to drag the game to such low levels where everyone just get forced to use units is a day time robbery.
The game lags, the specials dont trigger, the evades and heavy hits, swiping in front lags, and worse when you execute them you find yourself getting hit back because yours didnt trigger and the AL got on you.
these are some of the pretty frustrating reasons a lot of us would just stop playing this soon to be junk game. I am not going to use any units and i might even stop playing after over 2 years just because kabam has transformed Itself to a leecher who only wants to live on our pockets...