Summoners, due to a technical issue, this week's series of Alliance Quests will be cancelled at 4pm PT. There will not be any Rewards for this series. The next series of Alliance Quests will start on April 18 at 12pm PT. We will be assessing the impact on Alliances and compensating accordingly, as well as returning Alliance Tickets.
Cosmic decisions.... The cosmic depth is rubbish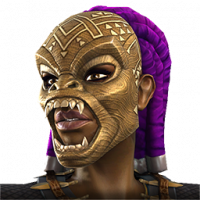 Moosetiptronic
Posts: 890
★★★
I have 2 to 5 gems inclusive for 5* and a 1-2 6* gem, plus, of course, 16 cosmic t4cc.... And feel like I have nothing to use them on.
Given this and my existing cosmic are any of these worth ranking to use t4cc? Thinking CMM, but no Nick over 4*, or possibly red goblin for AW defence diversity, but that's a bit galling...