Mephesto Tune-Up Ideas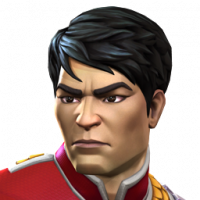 AegSheriff
Posts: 5
★
Mephisto Tune-Up Ideas

Base abilities and synergies

The Champion and Symbiote Supreme synergies should be incorporated into Mephisto's base abilities.
As for the synergies they would be changed to the following:

The Champion synergy now gives mephisto +5% attack per captured soul totalling 20% attack increase per captured soul when you have him on the team.

The Symbiote Supreme synergy increases the chance of him activation the aura on basic attacks by a flat 7.5% for a total of 22.5% when Sym Supreme is on the team.
That way these synergies are nice to have but not always 100% necessary to play Mephisto.

Regeneration
Once per fight when Mephisto reaches 30% health he consumes 2 souls (instead of all of them) to regeneration based on the amount of persistent charges he had at the beginning of the fight.

Special attack 1
The duration of soul imprisonments is reduced to 10 seconds (from 15 seconds) and the special attack doesn't consume any souls to activate this ability.

Special attack 3
Always power drains up to 2 bars of power (instead of once per fight) but the permanent aura of incineration is only activated once per fight.