UPDATE: A new Hotfix (v32.2.3) is now being released to address this issue. Please keep an eye on your App Store for this update to address the below issue.
We are currently experiencing an Error when Summoners view a Champion's Synergies while in the Champion Selection screen in Arenas and Duels. We are aware of this issue and are working on a Hotfix to address it. In the meantime, please avoid using the synergy menu to prevent this error and crash. We apologize for this inconvenience. Updates will be posted here:
https://forums.playcontestofchampions.com/en/discussion/293506/error-when-looking-at-synergies-from-champion-selection-screen
Silver Surfer with Odin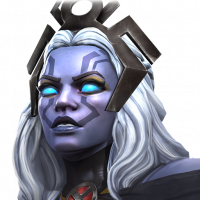 Pin_the_AvengerPGT17
Posts: 231
★
How has no YouTuber taken the opportunity to look at Silver Surfer with the Odin buff. I mean Silver Surfer would deal extra fury damage with the aptitude's on him and he would deal extra energy damage for having 3 extra unique buffs.

I've seen the CMM, Hela, Angela, etc. I was looking through Auntm.ai and then YouTube and noticed no one has tested SS with the Norseman prefight (shout out to Brian Grant for shouting out someone else for making the Norseman term).