**UPDATES TO ENLISTMENT GIFTING EVENT:**
To prevent exploitation, we will prevent new Accounts from being able to Gift enlistment crystals. We will also be taking action on those who are using 3rd Party Sellers, Bots and other farms to gift themselves mass amounts of Enlistment Crystals. Lastly, we will be adding an expiration timer to Enlistment Crystals. All unopened Enlistment Crystals will expire on Oct 18 @ 17:00 UTC. For more information, please see this post:
https://forums.playcontestofchampions.com/en/discussion/346104/updates-to-enlistment-gifting-event
**KNOWN ISSUE**
We have adjusted the node placement of the new AW maps to better allow path traversal. As a result, defender placements have been reset. Please, take a moment to re-place your defender setup. We will be pushing out a message in-game shortly.
Magneto buff "revisited"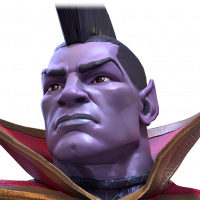 Spidey
Posts: 45
This is my last time posting about a Magneto buff because honestly I don't think kabam takes my request seriously anymore. In my opinion magento is by far the most unused mutant but he's one of the most OP in Marvel comics. Also his magnetism doesn't effect all characters who hold onto metal.. "Blade, Drax, Thor, Rocket Raccon, and many others. That being said, he deserves a tremendous buff.

Since his powers are literally control all metal. His new signature ability should be "Magento's experience around metal has provided evasion of all metal projectiles." very similar to Daredevil. Which means bullets, bombs, even swords will be evaded or they simply miss.

Also, I would recommend one of these 3 suggestions.

All special attacks have heal block

Lvl 1: 100% Heal block, 50% chance to bleed

Lvl 2: 100% Heal block, 70% chance to bleed, 50% Armor break

Lvl 3: 100% Heal block, 90% chance to bleed, 70% Armor break

Or

Same abilities as of now, including power drain on Lvl 2 and Lvl 3.

Or add fury or critical damage or something to him because his punches are very soft.