Using rank up gem of your choice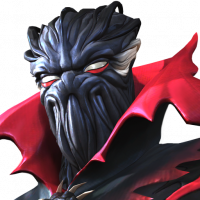 Luciferiamdevil
Posts: 74
★
@Kabam Miike
@Kabam Zibiit
Guys i dont know if its an issue in the game or you haven't thought this through but this is a genuine thing because we can have multiple rank up gems in the game which can be used on a variety of characters and some are just restricted in some ways to be used but if there are multiple rank up gems which can be used on a character then we should have an option to choose it from them like in my case i have generic rank up 2-3 in overflow and to use my resources efficiently i should use my generic on corvus instead of a class rank up gem but the game is not allowing me to do that, please do something about this fast bcz my items sure will expire if you don't do anything about it or else I'll have to use these items on someone else for nothing.
Please guys do give a solution fast but for the heads up i have some suggestions of my own:
Either increase the inventory limit for a while until you fix it so that i can claim them from the overflow
Or try to give an option so that i can use my generics even if i have a class gem.
Thanks guys i hope you do your best.