UPDATE: A new Hotfix (v32.2.3) is now being released to address this issue. Please keep an eye on your App Store for this update to address the below issue.
We are currently experiencing an Error when Summoners view a Champion's Synergies while in the Champion Selection screen in Arenas and Duels. We are aware of this issue and are working on a Hotfix to address it. In the meantime, please avoid using the synergy menu to prevent this error and crash. We apologize for this inconvenience. Updates will be posted here:
https://forums.playcontestofchampions.com/en/discussion/293506/error-when-looking-at-synergies-from-champion-selection-screen
Thank you Kabam. Pain and Summer. It was gratifying.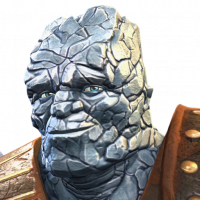 Enel
Posts: 36
★
@Kabam Miike
@Kabam Zibiit
@Kabam Porthos
@Kabam Vydious
@Kabam Lyra
About the pain and summer, I come to congratulate the kabam for what it has brought about after the 3rd week.
Overall, I rate it as 10.
For me that I'm not close to a 6 * P4, the event ended with the 9th week. With the goal achieved. Milestone 6 successfully.
One downside to this was the mystery. Brought only poison-causers to hit him. Outside of this requirement, only the 2099 guillotini has any effectiveness.
And how I was the only one who complained about the mystery. I'm going to believe that someone from the top management understood the questioning and brought difficult challenges, without reducing or demanding something specific for each fight.
It required the 3 extra missions for TB, however, without decreasing the attack options.
And that made the event a pleasure to play.
For those who are close to their 1st character 6 * p4, it's your duty to explore. As is not my case. I feel satisfied with what I've achieved so far.
The resource I have will invest in the acts.
In general, Dor e Verão was very nice to play. The rewards are sensational. But I plan to take it easy. I'll wrap up my act 6. Maybe a line in the abyss. I don't have a vast arsenal of 6 * p3. So I can't be greedy right now.
kabam! The work was excellent.
Now.
To all those who came to my post about the 3rd week challenge. Ironically, defending this challenge. It was worthy of anything. Tell me how was your performance on that mystery, vampire, and grandmaster line?
Only the hardest line of the entire challenge.
Some will do with low expense. Others with high spending.
How were you here with your abominable immortal?
I will continue to believe that my complaint made the kabam understand that it could not bring challenges like this, restricting the range of characters in the game.
Imagine yourself in this moment having to face Korg suffering only degeneration to die. Or something crazy, just like it was a mystery that only suffered poison damage.
Thank me for that. I and everyone who understands this challenge, we free everyone else from facing more absurdities, with restrictions for attackers.
Think about it.
Goodbye.