**BANQUET EVENT PSA**
To fully participate in the upcoming Banquet's Alliance Event you will need to be in your alliance for 14 days prior to the event's start date on December 20th. That means, stay in your alliance from December 6th onwards to enjoy all there is to offer in the Banquet event.
**Not Another Anime Reference Solo Event Returning**
This solo event has been fixed and will appear in game again on December 10th and will run through the 17th.
Reminder: This event is available to Paragon+ Summoners
7.4 100%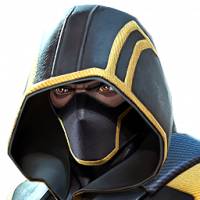 Masterpuff
Posts: 6,459
★★★★★
I 100% 7.4, it cost me about 400 units worth of revives(all used on Kang).
I chose to finish Carina's V2 first to get the amazing pfp, so i actually had 250 generic sig stones after 7.4.
I forgot to screenshot, but I got a mutant AG:
I opened the r4 Gem second.
Unfortunately, this was the second worst above mystic(only because I have a mystic r4 right now).
Then mutant nexus blew:
The other 5 nexuses were:
This was really really solid. I wanted AA from the mutsnt nexus and I got him and duped him, WM was actually the second best pull since I use my r3 a ton, and herc was sigs.
The other crystals:
Opened a sigil featured first, hoping mainly for Nimrod, Kitty, or Voodoo. YJ was a top 3 consolation prize though.
Then i went for a basic, and regretted it badly.
Sig 40 on a champ I cannot stand.
I went for a final featured to top it off and got my #1 consolation prize.
Here are the r3's from it:
I currently have enough t4cc to r1-3 Medusa, but she will wait until the next levelup.
And unfortunately, although this may seem like treason to many, I did not r4 Ronin. Although he is still among my favorite champions, I do not use him enough to justify r4 now that I have completely moved away from suicides with no desire to return. I spent a while thinking about it and there was one champ that just couldnt be ignored.
I took Nick to r4. I dont like him nearly as much but unfortunately, he beats Ronin in Alliance Event use, Story, Damage, and most importantly at least to me, he is a beast for Battlegrounds. I just had to do it.
Use of AGs/Sigs
I got a mutant gem which was best case scenario, so I awakened Kitty, gave her all my mutant sigs(41) and topped her off with my remaining generics after my other two investments.
I used the generic on Nick, obviously.
I also took him from sig 1 and Tigra from sig 114 to much better levels.
Finally, this is my profile: