**KNOWN ISSUE**
An unknown error has resulted in Grandmaster Gauntlet progress being reset for a portion of our playerbase. As a result, we will be temporarily removing the Grandmaster Gauntlet as a playable mode. The mode will be reinstated when the team has resolved the issues.
**KNOWN ISSUE**
There appears to be a bug causing missing VFX (visual effects) for a number of elements including traps, phasing and some blocking animations.
The team is aware and looking into the cause of the issue.
Marvels Most Wanted looking for active players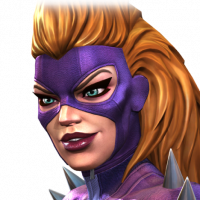 EgretM4
Posts: 155
★★
We're looking to fill 10 spots after an alliance split. Need level 45+ and to stay active in aq and aw. We run map 3-4 and aw tier 11-12 for every event. Casual alliance with some good people. No line required biweekly sa. No donations or event minimums.

If interested check out the alliance [-MMW-] Marvels Most Wanted and join up or add me Egret M4 or any of the officers for more info.