**HOTFIX AND GOODIES**
Our latest Hotfix is now live for both iOS and Android! Please manually update your game. Additionally, because of the bugs' impact on energy refill consumption, we have provided summoners with Energy Refills and a few other items to assist in the Contest! Sign in and check your messages now to claim yours!
AW Bosskills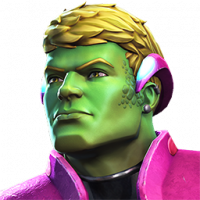 Karakanli
Posts: 82
★
Hey guys,


Just a short question to the pros here:

We today experienced for the Second time a player killing our R4 5* Spidey Dupe Boss (sig 100) in AW with 4!!! active buff nodes... can anyone confirm if and how that possible in any way? Maybe someone can post a Link to a stream showing this...

The enemy didnt give away a kill and even approx no hp!!! He used R3 5* Blade sig 30, R3 5* SL and R1 6* Single WS...

Btw we are in tier 5 in AWs.

We already contacted Kabam to look for some Details or cheats but... well no response and today it happened again...

Some hints appreciated, thx in advance
Kara

This discussion has been closed.