Unofficial Community Meetup - Friday, April 27th - Seattle Area

BrianGrant
Posts: 171
★
Come join the Marvel Contest of Champions community at GameWorks in Seattle!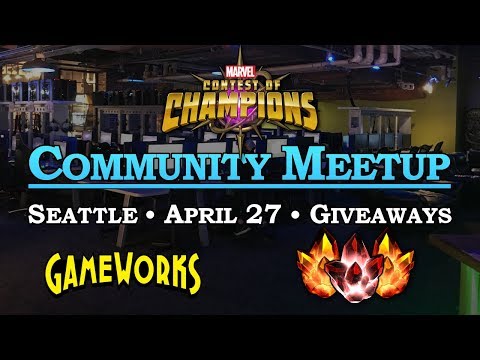 Friday April 27th
7pm - 11:30pm
GameWorks Seattle
Ages 13+ (18+ after 10pm)
Screen mirroring to play on bigger screens (Save some crystals to pop open on the big screen!)
Side-by-side dungeon runs!
MCOC giveaways (both real world and in-game)
Mini competition for a 5-star crystal
The event is totally free to join, but you'll have to buy your own food/drinks.
I also reached out to Kabam to see if they could supply some free stuff to give out and they came through with quite a bit of stuff actually. A box full of past comic con items, some MCOC Funko Pops, a few limited edition items not from comic con, and even a few crystal rewards.
Here's a small sample of some of the free giveaways:
Note: Those adapters to connect to the monitors are NOT being given away. But they are going to let us smash some dungeons side-by-side on bigger screens!
Post edited by Kabam Lyra on