Summoners, due to a technical issue, this week's series of Alliance Quests will be cancelled at 4pm PT. There will not be any Rewards for this series. The next series of Alliance Quests will start on April 18 at 12pm PT. We will be assessing the impact on Alliances and compensating accordingly, as well as returning Alliance Tickets.
Daredevil Classic issues [More Info Needed]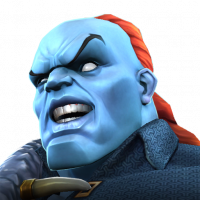 Sarmisegetusa
Posts: 68
Hi,
I am a Daredevil player that uses him in map 5 and occasionally in AW for offence.
Lately I have problems with him as:

*first punch of the combo after a block or evade he misses. NOT every time the punch lands.
*in AQ map 5, sometimes against AGENT VENOM and other characters, he doesn't evade the special 1 and neither (sometimes) on Dexterity the special 1 and 2.
*even if I add Superior Iron Man in the team with him, He DOESN'T get always the boost of +115 Critical Damage rating (all champions)

My Daredevil is rank 5, signature level 95. I have the entire line from Limber maxed up.
Please fix the issue.
If you made some changes to him, please tell us.


Post edited by Kabam Wolf on
This discussion has been closed.