Harder Difficulty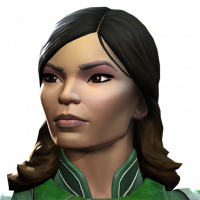 Unknown_Soldier
Posts: 154
★★
There is a difference between making a champions harder by introducing nodes and boosting HP and allowing the AI to cheat in your built in game mechanics! The below issues have been brought to your attention multiple times in various threads and yet None have been addressed by ANY Kabam Forum Monitors........can we please not have transparency?

1) AI reaction speed and ability to counter within less than a second vice a normal human......

2) AI punches through blocking when player is clearly blocking

3) AI executes specials IMMEDIATELY after it MISSES with a heavy....even BEFORE heavy animation finishes......AI can still be MID AIR and still has time to BLOCK or use a Special

4) Making AI turtle on nodes than drain HP if a hit isn't made in x number of seconds or just waits to do special 3 (especially with power gain champs like Mordo, Hyperion, etc)

5) debuffs on AI champs don't activate as often as expected YET AI seems to debuff more frequent....this is NOT on nodes that affect debuffs or buffs

6) AI IMMEDIATELY counters with combo after being comboed in corner

7) AI evades and dodges as if every character is Spiderman or Night Crawler

8) Excessive exploitation of above with same champs on EVERY quest map:
Night Crawler,
Stark Spidey
Hyperion
Mordo
Classic Spidey
Symbiote Spidey
Miles Morales Spidey

Is not hard enough the difficulty with trash nodes like Explosive Personality, Bane, Power Gain 200%, Power Shield, Prove Yourself, Chaos (usually disadvantage for you),
Brute Force, Reduce ALL classes accept X class attack by 50%......etc.

You are real quick to point out "exploits" that help player and fix them with reasonable time....how about you fix the cheating AI exploits that are unfair to player?!

Don't expect harder difficulties to be easy but do expect AI to work within limitations of your game! Your crystal drop rates are NOT fair across board and some of us don't have 5 stars needed that most top players have......We have to use 4 stars to complete quests.......we expect a LEVEL playing field and at very least AI that doesn't cheat our limitations......IF it is NOT possible for a human to parry counter in less than a second then it shouldn't be possible for AI to do so!
Post edited by Kabam Spice on