**UPDATE**
We are currently working to fix a known issue regarding Alliance Prestige. With the introduction of Relics, Summoner Prestige is now the average PI of your Top 5 Champions and the average PI of your Top 5 Relics (regardless of which Champion they are attached to) combined.

Today we pushed a fix that will allow for proper reward calculations in Alliance Quests. However, the display for Alliance Prestige will not be accurate and does not include Relic Prestige. This is a display issue only.

**KNOWN ISSUE**
Some items are displaying erroneous star ratings. This seems to be happening most on items where typically there are no star ratings. We have found the cause for the issue and it will be resolved, targeting mid-late next week.
Danger Room bosses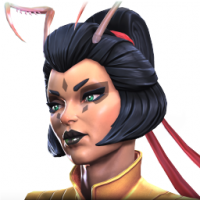 Hellstrom616
Posts: 5
★
These Danger Room bosses are way to powerful. The Sentinel especially has been the worst. I've had to burn thru all my iso and catalysts upgrading champions and use all my potions and revives among units for more just to get thru them. The all heros rooms on Sunday was the most fair day. Please tone these bosses down some so that it can still be a fun and worthwhile event for everyone.