**KNOWN ISSUE**
Some items are displaying erroneous star ratings. This seems to be happening most on items where typically there are no star ratings. We have found the cause for the issue and it will be resolved, targeting mid-late next week.
Kabam, fix node 31, please!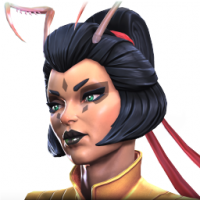 nilaebran
Posts: 86
★
A couple weeks ago fought ironman infinity war (imiw) with my rank 3 5* corvus glaive. I had 2 persistent charges but he wasn't dealing the damage he should have. I had pulled corvus few days before so i thought maybe i was doing something wrong. Few minutes ago i did the same fight but my corvus is now r4 and i had 3 charges. He deals the exact damage as in a duel where there are no charges. Don't know if i can post videos here but i'll post the links as soon as i'll have them uploaded on youtube,you'll see what i mean.