Make magneto a boss that he deserves to be.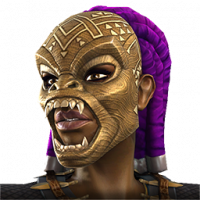 Spidey
Posts: 45
I know this game doesn't actually follow comic book accurate powers to a point of changing all their abilities. For example, the symbiote in champs like Venom, Carnage, Agent Venom, Venom Pool.. evasion (spider sense) shouldn't happen at all against these champs. I can go on and on about characters abilities but when you think of Magneto in the comics, he has always been a boss in the mutant world. Besides Jean Gray and Ice man, he ranks as an alpha level mutant. I really hope you guys buff him up because he simply needs it, I don't understand how a super villain and one of the most powerful mutants ever is the weakest mutant in the game.

Yes heal block is great but you have to wait till L2, L3 to use it. Yes Magnetism is great too but doesn't actually imply to all metal champs (Thor, Drax, Jane Foster, Juggernaut). Bleed is not great, 55% chance to actually make them bleed in the specials is terrible. Please consider adding fury to him, evasion of projectile metals or him being the only character to have all unblockable specials. As a player of this game for 2 years now, I still don't know if he's a defensive player or not. I hope adding buffs to him we can tell much easier.