ROL farming leaderboard/research!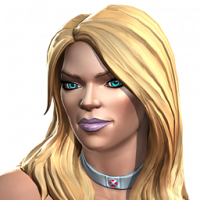 SDP
Posts: 1,606
★★★★
I'm so curious to know your top times for beating WS as well as complete clears. Let me hear all of your top synergies and strategies.

I used to run 5/65 Spidey with full Spidey team. (Venom, Miles, Vulture, Electro).

He's fast, but building that poise over and over again becomes quite annoying to me for these purposes. Especially, with that passive A.I.

He usually takes WS down around 1:40 in under 80 hits. On average runs.

Began running 4/55 Domino with Rulk, Mas, Nick Fury, and Deadpool, and found she was often faster with less hassle even at rank 4.

I had one fight against WS that I'm sure was under a minute with her, but I wasn't timing or recording. 41 hits! Fastest timed run was 1:06 in like 49 hits or something. However, the RNG is at play here, and you can just as easily fall to 2:30 or so.

Then, 5/65 Ghost after I snagged a tech 4-5 gem from Variant #1. She is consistently under 1:30. I tested the Heimdall/Hela Fury with Antman and Wasp of course, as well as just adding double YJ. Not much difference.

I've done enormous amounts of testing and synergy research, and am curious to hear about your optimal runs.

I was surprised to find that 5/50 AA with triple Quake and Hawkeye was hitting around 1:50 against WS for me! That's pretty wild.

Hype can have amazing runs with cosmic team.

Haven't done a full run test in a while. Last one I did was with 5/65 Void, sig 200, in 32 minutes. Not a record or anything, but I thought it was pretty fast for him.

Curious to hear about your experiments!