Featured 5 Star Crystal Giveaway! (Brazilians CCP Contest)

Capitão_DBO
Posts: 47
Content Creator
Hello everyone!
I'm DBO from the brazilian channel
Canal K9
. Me and my partner
@iiiJDiii
runs the channel and we manage to be accepted in the KCCP, so, now, we are hosting a contest that will give a Featured 5 Star Crystal.
First of all, its important to say that his contest/event is in no way sponsored, endorsed or administered by, or associated with Kabam or Marvel.
And now, some informations about the K9 Contest: Assemble!
Basic Rules:
>> You must be subscribed in youtube.com/canalk9
>>You will need to acquire a ticket to join this contest using 100 koins (you will earn this koins in the subscription if you are a new here). We use
chatbot streamlabs
in our channel and the bot keep tracking all new subs and how much time you spend watching our videos. This time spend generates Koins, the virtual currency of our channel.
>> The subscription will start at 05/09 until 05/14,
Click here to access the subscription form
>>Once you sent the form and if you filled correctly the requirements you will be joining in the phase 1 of this contest
>>This contest will be divided in 4 phases, that will be announced step by step (check the agenda above)
Agenda:
05/09 - Opening of the K9 Contest: Assemble and the phase 1
05/15 - Closing of the phase 1
05/16 - Opening of the phase 2
05/22 - Closing of the phase 2
05/23 - Opening of the phase 3
05/26 - Closing of the phase 3
05/27 - Announce of the Endgame (final phase)
05/29 and 05/30 - ENDGAME, the final stage on livestream at Canal K9
Rewards:
1st Place: 1x Featured 5* Crystal
2nd Place: 1x Terrific Tetra 4-Star Crystal
And everyone that joins in the contest will have a chance to win a Basic 4-Star Crystal.
To check out more information about the K9 Contest: Assemble, check the video below! And you can also check all this info on this google doc (
bit.ly/K9torneio
) and submit your inscription on this form
bit.ly/K9torneioinsc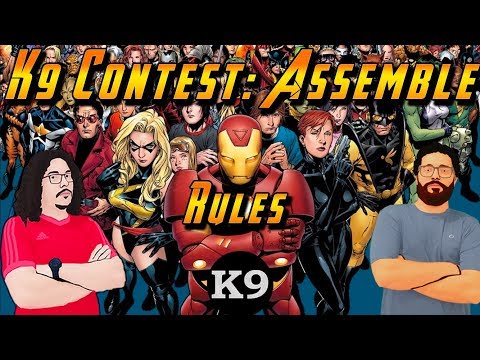 And the
PHASE 1
already started!!!
You can check all the rules here, on this doc:
bit.ly/K9fase1
and submit your result on this form:
bit.ly/K9fase1form
.
A quick summary:
>:Phase 1 consists in a Duel agains
@iiiJDiii
's profile: 5star R5 Symbiote Supreme.
>>Only duels using AVENGERS will be considered on this phase (Ronin will not be accepted because he's too new on the game)
>>You can use any avenger from any rarity (from 1* up to 6*)
>>Each contender should send, in the
Phase 1 conclusion form
a screenshot (must contain the hits combo and the HP from the opponent at 0%, so you can proves you indeed finished the opponent)
In case of a tie, we will choose who will advance to next phase following this criterias:
>>Winning with the lower star rarity will represent advantage over higher stars
>>Less amount of life lost
>>Higher combo meter at the moment of K.O.
>>Time of the submission (earlier submissions will have advantage)
We will only be picking the Top 3 duels from each avenger, so chose your avenger wisely! Who knows how much hulkbusters submissions we will have...
I know it's too much to read but we want to create a fun challenge! Hope you guys like and fell free to ask if you have any question about it!