Summoners, there was an issue with Alliance War matchmaking today preventing Alliances from being able to match with others. As a result, this upcoming war will be cancelled. There should be no detrimental effect to any Alliance's Season performance, and we will be reducing the Alliance War Season Rewards Participation minimum to 4 Wars. We apologize for this inconvenience.
Is there a reason the auto-fight AI has to be so inferior?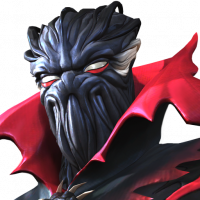 Ultra8529
Posts: 526
★★★
It just bugs me that even for simple fights the auto-fight AI may sometimes end up getting hit 30 times before it can even land one hit. I do not understand why it is programmed to be so inferior to the computer AI.

Nobody would be using this for actually difficult fights anyway, so there cannot be a fear that improving the auto-fight AI would allow players to clear content that they otherwise would. In most areas of the game, hitting the enemy as much as they hit you would mean you die pretty fast anyway.

All I am saying is why does the auto-fight AI have to be at a level where it can land 1 hit for every 3 hits the opponent lands, instead of a 1 for 1 ratio?