Synbiote has abilities not listed....wheres transparency?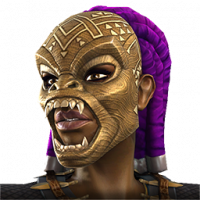 Unknown_Soldier
Posts: 149
★★
This is supposed to be a PURPLE Symbiote. The only abilities listed are Bleed Immune, Periodic Regen and Armor Break.
Attempted to parry and/or Stun got hit with combo and "Immune" popped up.
Symbiote activated S1.......got hit because "Unblockable" popped up.
Hit symbiote with Voodoo Poison S1.......IMMUNE.
Theres NO description of any of these abilities for this Symbiote. It's not a GOLD symbiote, and other Purple Symbiote of same color do NOT have immunity or unblockable S1. Are we to "guess" random abilities and no chance to prepare. Wheres the transparency and how are we supposed to decide which champion to use if we cant even depend on abilities being truthful or accurate. Either the node needs to be fixed or you need to add these "ghost" abilities to description. Please investigate this.
This discussion has been closed.