**KNOWN ISSUE**
An unknown error has resulted in Grandmaster Gauntlet progress being reset for a portion of our playerbase. As a result, we will be temporarily removing the Grandmaster Gauntlet as a playable mode. The mode will be reinstated when the team has resolved the issues.
**KNOWN ISSUE**
There appears to be a bug causing missing VFX (visual effects) for a number of elements including traps, phasing and some blocking animations.
The team is aware and looking into the cause of the issue.
Symbiote supreme counters for boss rush
BitterSteel
Posts: 8,533
★★★★★
I've gone through the boss rush a couple of times now just to test different counters on Sym supreme, as this is (in my opinion) the hardest fight.
He's fairly niche in the way he's designed that there isn't a huge list of counters for him but still, there are a few.
Ones I've tested
Ghost- take in hood, this gives you the ability to tank sp3 with 0 damage. You just have to worry about being caught with a special while you have a precision buff meaning you can't phase. Ghosts damage means you can take him down in one big sp2. This is the option I used first time round, an unduped 4/55
Doc Oc- I actually only have a 5* rank 1, so I took him in just to see if in theory he works. And he does! You can power lock Sym supreme all the time. Just watch for that initial sp1 and keep baiting specials when you can until he's under 1 bar of power. It's a risk to go for your sp3 but if it pays off then you get a longer stun lock. I do think it's possible to solo with Doc Oc though
Void- takes a bit of baiting just to apply the petrifies, a tricky one to handle but definitely possible. Have to rely on RNG to get petrifies early on. (Bonus that he works well for domino as well)
Now these are champs I haven't tested but theoretically should work
Gambit- first time he's been useful since variant 1, just stun lock with his guaranteed stun on sp1
Sparky- stun lock again, plus evasion of specials and the power drain and taunt works great
Red skull- another stun lock, plus an emergency power drain with blocking
Ronan- stun lock once more, just build to one sp1 and you've won the fight. Unlike usual, a 2* Ronan won't be able to work here as you'll have to take the block damage of the initial special 2
Luke cage- stun lock on sp1 also and if you mess up then you've got the indestructible, not the best option but exhaustion also can reverse the power gain
Magik- limbo can help with damage, power lock sp2 rinse and repeat. Can keep him at 0 power
Gwenpool- your evading-without-dexterity game would have to be on point but you wouldn't have to worry about special attacks, just don't trigger dexterity and you'll be fine
Thing- thing is on lagacy's video as an almost solo, here's the link-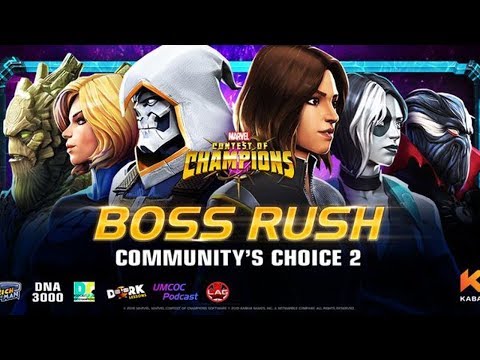 He will explain it better than I can, I don't use Thing that much!
Now for champs that *might* work but I'm not sure
Modok- maybe a constant sp1 spam could reverse the power enough, I'm not sure
Dormamu- same idea as magik but I'm not sure if he would be able to reliably get to sp2 each time
Cap IW- lots of parrying will reduce the power gain like void. Probably not the best option but if you have nobody else
Carnage- now this one is a bit out of left field, I think it would be possible, with his ability power gain and the 50% power cost that if you get a heavy off you could literally just fire off sp1 after sp1 and keep Sym locked in the corner. With unblockable specials you wouldn't have to worry about timing. I'm going to test this one out when I get energy.
Others?
Please comment if you have any ideas for others, if you've tested one and they don't work or even if you just disagree with one I've suggested!