**Login Issues - Update**
Summoners experiencing error messages during login, we have been manually navigating around the issue for each player; you should be able to log in again!
We will be releasing a hot fix in the next day or two to resolve the issue entirely.
Kabam, please take this into account/keep this in mind when deciding AW season 11 rewards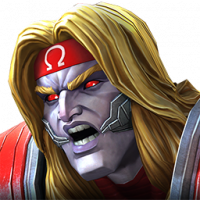 Evangelionlovr
Posts: 452
★★★
Below are several screenshots from various friends in various alliances. I made the decision to pursue a highly competitive AW alliance this season, because everyone was pushing AQ and I do not have the time to grind arena required for donations. This season was rough, my ally has been Platinum 1 the past 4 seasons but we ran into a lot of adversity with members getting really busy in their work and home lives and it definitely cost us some wins. That being said we still reached Platinum 2, and therefore got 5 Alliance War Seasons crystals. I opened my 5 crystals and got 7k T2A and 5k T5B, since it was my first time in such a high ally (last season I was in a Gold 1 ally) I immediately went to our alliance discord to see if this was a decent haul.
Immediately I see that my BG officer got 2 T2A in his screenshot, the result of, as he said, 44k T2A shards. I was pretty ticked off, I mean that's about 6x the amount of shards I got! Then I went to the channels of other ally that I have been with over the year that I have been playing and I saw someone in Gold 1 who got 39k T2A and 6k T5B! In another alliance, who got Gold 2 (two crystals) one guy received 22k T2A and 2k T5b!
The fact that there is such a disparity in the amount of T2A one gets from these "rewards" and the fact that it is purely driven by RNG is a bad design. If this is not corrected for Season 11, then season 10 will be my last season playing this game. I have spent about $2k if not more on this game, so it is extremely frustrating to me to have these kinds of poor RNG based rewards.
Please change this going forward, I understand the point of RNG and even the need for it, but a swing of 7k to 44k purely due to RNG is absolutely ridiculous. That's like giving me 5000 5* shards when my ally mate gets 3 full 5* crystals. We did the same work, we should have the same rewards or at least very close. Your RNG is ruining the game and driving people away.
Photos: