Second thing on map 7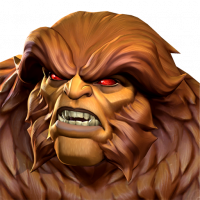 Run477
Posts: 1,288
★★★
Second thing on map 7 is quite ridiculous.

First, mesmerize is the dumbest node in the game. 7% operates more like 25%. Or, like today, my first hit into him his block he evaded and instant kills me.

However, you can play around it sometimes. But when you add in mighty charge it becomes a little ridiculous on thing. You can't place a slow on him bc of that and you really can't parry to prevent evades that way. And let's not forget that the node also has kinetic transference so he is constantly gaining power.

AQ is not event quest. People can't sit and revive/heal to clear insane stuff like this. You need to tone down the second thing. Either replace mighty charge or mesmerize so that there are options for playing him. Outside of using quake, would love to know what champ kabam believes has even a chance to reliably kill him there.