Earlier today, there was an issue where Summoners that logged on shortly after the Login Calendar switched over for the day didn't receive the Cosmic Ghost Rider login crystal. We've fixed the issue for players receiving the crystal now but will have to collect data and send out the crystal to all players that didn't receive it next week. We apologize for this inconvenience and look forward to making it right for you all.
Team Composition and strategy for the collector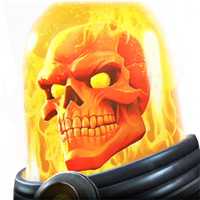 Warlord5386
Posts: 232
★★
Hi I'm currently working on becoming uncollected and would like to know which champs should I take with me to the collector.

I currently have 720 units and a couple of 20% revives.

My roster includes-

5* Ghost Rider Unduped (3/55)
4* Hyperion duped (5/50)
4* Spider Man stark enhanced Unduped (5/50)
4* Symbiote supreme Unduped (5/50)
5* Venom Unduped (3/55)
4* Morning Star Duped (4/40)
4* Hulk Ragnarok Duped (4/40)
5* Colossus Unduped (2/35)
4* Captain Marvel Movie Unduped (4/40)
4* Luke Cage duped (4/40)
4* red Hulk duped (4/40)

I also just got blade as a 4* so should I rank him up for the collector?

Any tips and suggestion will be appreciated!
Thank you!