**UPDATES TO ENLISTMENT GIFTING EVENT:**
To prevent exploitation, we will prevent new Accounts from being able to Gift enlistment crystals. We will also be taking action on those who are using 3rd Party Sellers, Bots and other farms to gift themselves mass amounts of Enlistment Crystals. Lastly, we will be adding an expiration timer to Enlistment Crystals. All unopened Enlistment Crystals will expire on Oct 18 @ 17:00 UTC. For more information, please see this post:
https://forums.playcontestofchampions.com/en/discussion/346104/updates-to-enlistment-gifting-event
Is Doctor Doom worthy of a generic AG?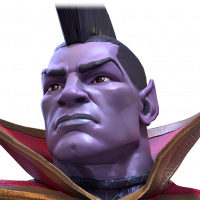 JMKeynes
Posts: 12
★
Hello everybody,
I have just completed act 5 100%, and I got a juicy generic 5* awakening gem, plus a mutant one. Now it comes the though part: I have to decide which champion I want to use my gem on, and eventually take such champion to rank 5. So far I only have one r5 champion, nick fury, so whomever I am going to choose must be someone with both damage and utility.
Actually, I have been lucky enough to have plenty of good champions already awaken, as you can see in the pic. Although there is one that I have been using even more nick fury: doctor doom. He helped me so much getting cavalier, and throughout all act 5 100%. And I have wanted so badly take him up to rank 5, although I have been hesitating since he misses the dupe.
So, my biggest concern boils down to the following question: is doctor doom worthy of a generic AG, and then eventually of a rank 5 once he is awaken?
Or should I wait for someone who needs more than doom the awaken ability? The fact is that I already have some awakened guys who would have been worthy of a generic gem, such as Nick Fury, Hyperion, Cap. Marvel Movie, Colossus, therefore the temptation of using the gem on Doom is very strong at the moment.
Besides, in stash I have a skill and a mutant awakening gem, still waiting for someone worthy of them. So, if I had to pull a Namor, an Omega Red, o Blade or a Nick Fury, I would be half covered on that side. Probably only Void and Cap IW are left worthy of a generic gem among all champions.
Please let me know your thoughts, because this dilemma is tearing me apart.
Is Doctor Doom worthy of a generic AG?
47 votes