Earlier today, there was an issue where Summoners that logged on shortly after the Login Calendar switched over for the day didn't receive the Cosmic Ghost Rider login crystal. We've fixed the issue for players receiving the crystal now but will have to collect data and send out the crystal to all players that didn't receive it next week. We apologize for this inconvenience and look forward to making it right for you all.
Finally became cavalier! What to do next?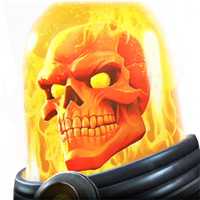 Warlord5386
Posts: 232
★★
I just became a cavalier. It was quite a bit of fun. Crossbones and sentinel were the main problems but thanks to y'all guys in the forums giving me tips and guides it worked out great in the end.
My MVP's were Quake , Domino and doom. Domino and Doom were fantastic options for clearing lanes and quake took on most of the bosses including sentinel and crossbones whom I managed to get the one shot.I haven't used any units at all whatsoever just few revives.
I have completed variants 2 and 4 (not explored) and act explored only act 5.4.
Which content should I push for next? And also which champs should I rank for that particular content.
Any suggestions would be appreciated and you guys are awesome!
Thank you.
Edit: I also have 2 six stars - Electro and Nova which I didn't find useful but please do tell if they are.