What is your greatest crystal pull in your MCOC "career"?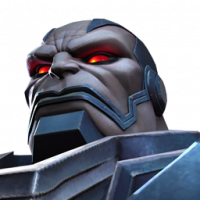 KDSuperFlash10
Posts: 5,869
★★★★★
I'll start. I have 2. The first being my best and the second being a close second.

1. Blade featured crystal opening. Back in the day, I was a huge noob. My only 5 stars were Yondu, Psylocke, pre-buff Colossus, and Falcon. I had 15k shards. And then I got the notification. "Seatin Man of Legends New Video: BLADE NEW GOD TIER? MYSTIC KILLER!" (or something along those words). I saw the hype. Every single video on my recommended was BLADE this, BLADE that, BLADE!!!! I decided to pull the trigger. This crystal was... everything. I had grinded so very hard for those 15k precious 5 star shards. The crystal stopped. Many duds passed by. The crystal slowed... Hulk, Agent Venom... BLADE!!!! I was over the moon! I took him straight to r2 (then I ran out of iso and catalysts as I was a noob at the time). This pull changed everything for me. I breezed through Act 5 and other content and nothing could stop me.


2. I had just become cavalier. I was wiped out, exhausted, and also relieved. I went into my crystal stash just to look at my crystals. I saw a peculiar new thing, CAVALIER CRYSTALS! I saw the price, 200 units. I looked at my units. I had 200 units. I decided to just go for it. I needed a celebration crystal after becoming cav. I didn't expect anything. I looked hard at those drop rates. An 11% chance to get a 5 star. My best champion was Colossus. I had been hunting for Omega Red. A bunch of 3 stars passed by and it stopped on a 5* OMEGA RED! I was shocked. I just put my phone down and stood there. I thought it was gonna roll over. Since I didn't have a mutant AG, I went into Act 5 and explored all of 5.2 and 5.3 in 5 days to 100% Act 5 and get that generic AG. I awakened him and put 100 sig stones into him.


Please share your best crystal pull experiences here and describe them! I would like to see some of yours!