AQ Human Torch 2nd Mini Needs Be Adjusted!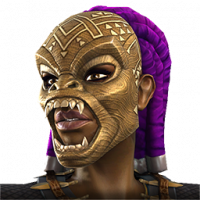 Unknown_Soldier
Posts: 149
★★
He's too powerful. Buffet 15% is ridiculous. You can't parry, you can't dodge and if u do he heals to full health even after 2-3 combos with a 5 or 6 star! He's bleed immune so 90% skill champs which would be an advantage are mediocre. You can't use Arch Angel or anyone who buffs and hes got ridiculous damage from his incenerate!

Also most incinerate immune champs are going to help him! There's a difference between making a fight challenging and making it impossible for 80% players. That buffet needs to be removed or at very least adjusted to less than 10%.

After 7 buffs hes already already recovered equal tob100% his life and 7 seconds is NOT enough time for buffet reset to do any type of damage!

Not expecting an easy boss anyone can one shot with any champ but seriously the 2nd Human Torch Boss is too hard!
Post edited by Kabam Porthos on