Summoners, we recently encountered an issue with the Alliance Quest Setup Phase Starting Timer that may cause the Setup Phase Starting Timer to display erroneous information, though we are working on a fix for it as quickly as possible. Additionally, if the Setup Phase does not let you plan your days in advance, you will be able to once the Event officially begins on the Alliance Quest Start date.

For clarity, the next Alliance Quest Enlistment Phase will begin on December 5 at 20:00 UTC, regardless of what the in-game timers display.

The next Alliance Quest Start will be on December 6 at 20:00 UTC. This is when Summoners should be able to enter each Map. Thank you for your patience and understanding as we work to resolve this issue.
Alliance War Season Rewards will start to roll out to Summoners very soon. These will take a while to get to everybody, so do not worry if an Alliance Mate receives their rewards, but you haven't yet. We thank you for your patience.
Does anyone still use Thing?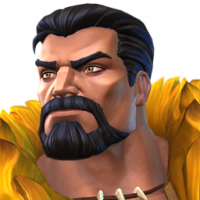 Polygon
Posts: 2,008
★★★★
Hardly see any mention of him anymore, it's usually just quake, beardo, void, torch, iBom etc

I know at sig 200 his protection has some good niche utility, but thats the problem. Who's going to blow 200 sigs into someone for niche use unless they're getting sigs like candy. And even if they are, theres surely better s200 options theyre likely to have in their roster

He's not really a heavy hitter unless you're willing to sacrifice slots on your team. I see him as more of a utility option due to his immunities.