Summer Of Pain - UPDATED [June 16 - 14:00 PT]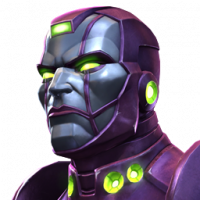 MCOC Team
Posts: 431
Administrator∙Moderator ›
Greetings Summoners!

The wait is finally over, and at long last, the Summer of Pain has Begun!

We are presenting a special challenge for those who have become Cavalier (by completing Act 6 Chapter 1) or higher. Starting June 16, we will be releasing challenging Side-Quests weekly that consist of just ONE fight. But these fights will be against notoriously dangerous, challenging, and frustrating encounters from throughout The Contest!

Each week, for 9 weeks, a new fight will be featured and the previous week's fight will be removed. So don't miss a week of punishment! To further increase the difficulty, starting from the 4th week the fights will also have difficult Solo Objectives for you to try and overcome. The final challenge will go live on August 18 and feature horrific highlights from the previous weeks, all leading up to a fight that has likely haunted your dreams before. (Since we're feeling charitable, that challenge will remain open for TWO whole weeks).

But what is to be gained from all this pain? 1x Gold. What? You want more? Fine. As you win fights and complete the Solo Objectives you'll collect points that upgrade the rewards you can collect at the end of the event, all the way up to rewards such as a 6-Star Class Nexus Crystal and Tier 5 Class Catalyst Selectors! This is done with Peak Milestones. That means you won't receive any rewards along the way, but at the end of the Summer of Pain, you'll receive rewards based on how many points you earned from each of the Fights and Objectives along the way!

So don't delay, get ready for fun in the sun as you feel the SUMMER OF PAIN!

EDIT: With the first Quest in the Summer of Pain launching this week, we want to add some clarity regarding who the Quests and Objectives will be available to.

Each week for 9 weeks this Summer, we will be releasing a new addition to the Summer of Pain. These Quests will be available to all Summoners that have earned the title of Cavalier (by completing Act 6 Chapter 1).

Starting with Week 4, we will be introducing Special Objectives that add an extra level of challenge to each of the Quests. These objectives will only be available to Summoners that have earned the title of Thronebreaker (by completing Act 6 Chapter 4, and possessing a Rank 3 6-Star Champion).

This means that if a Cavalier Summoner completes each of the Quests and earns the maximum number of points available to them, they will be able to obtain Milestone #6.

We apologize for missing this information in our earlier communications.
Post edited by Kabam Miike on