Summoners, the Necrosword Crystals (the crystals in the Knull Cavalier Preview Bundle) currently have a higher than intended drop rate of 6-Star Champions.

We will be leaving the crystals as is for the time being, but will be correcting the drop rates before Knull receives his official release on October 28th. To ensure that this does not affect anybody that purchased this preview bundle, we will be auto-opening these crystals before that date, but this means you will not see what you received. To avoid any confusion, please open your crystals yourself ASAP.
Chart: MCOC Top 50 Champions Rank Totals By Class (6-Star only)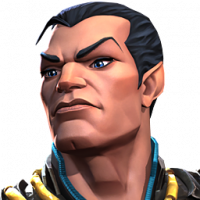 zaspacer
Posts: 52
★
Here is a Chart for the Top 50 Champions Rank Totals By Class (6-Star only).
It focuses on how many Champions of each Class are in the Top 50 Champions, as well as at what specific Ranks each Class shows up. The x-axis is the progressive tally for each Rank spot from 0 to 50 (0 is blank). The y-axis is Total number of Champions for each Class.
This data was pulled from Kingslayer MCOC's August 8th youtube video "MCOC All 200 Champions Ranked! | Best Characters In MCOC | Marvel Contest Of Champions". This is just his ranking which could be different than yours. This ranking also does not include this month's buff for Venom Pool and King Groot.