Act 8 Chapter 1: Casting Shadows - Coming Sept 21, 2022!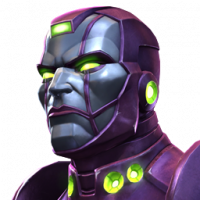 MCOC Team
Posts: 359
Administrator∙Moderator ›
ACT 8 - THE RADIANCE: CHAPTER 1 - CASTING SHADOWS
Welcome to Act 8 Chapter 1 of Marvel Contest of Champions!
It's been a little while since the release of Act 7 Chapter 4, and the conclusion of the wild saga of Gwenmaster, Kang, and Superior Kang. We've been grateful that so many Summoners have enjoyed Book 2 so far, and have gone on to become fully fledged Thronebreakers on their journey through Act 7. But we're far from finished, and not looking to stop, so we're pushing full speed into a brand new Act with ACT 8 - THE RADIANCE.
We've come a long way since we first started working on Book 2 back in 2020. With all the community's feedback and support we were able to better understand what players are looking for in a challenge. We gained a deeper appreciation for trying to keep content more digestible and accessible. Applying everything we've learned, we've rededicated ourselves to making this new Act bigger, bolder, and better than ever, but it's important not to get ahead of oneself. So without further ado, here's the low-down on the skinny behind Act 8 Chapter 1 - CASTING SHADOWS.
IF IT AIN'T BROKE...
Chapter 4 continues the successful Quest format found throughout Book 2.1.
1 Act composed of 4 Chapters

Each Chapter consists of 6 Quests

Each Quest is composed of…

6 Paths with 6 Encounter per Path

3 Final Bosses (Not Path Dependent)

1-3 Choice Nodes (found just before fighting the Final Bosses)

Choice Nodes return to give players a chance to swap out a non-KO'd 5 or 6-Star Champion for another in their roster.
The freshly swapped in Champion will enter the Quest at full health and ready to rumble. Summoners will find these Choice Nodes after the final Path Fight, but just before the Final Bosses, giving players a chance to swap in a Champion better suited for the challenges those Bosses present.
ACT 8 CHAPTER 1 - QUEST BREAKDOWN & ENERGY COSTS
Each quest consists of 6 paths, with an average of 23 nodes per path. Each path also contains 6 fights, plus the Final Boss fight.
TOTAL COST OF COMPLETION:
414 Energy
TOTAL COST OF EXPLORATION:
2484 Energy
THE POWER HOUR
Before we start talking about the new Nodes in Act 8 Chapter 1, it's important to mention that we've added onto the initial 6-Star Supporting Nodes we introduced in Act 7. We want to keep pushing the boundaries of what it means to bring in your top tier Champions into Story Quests, and that means bolstering your highest rarity Champs to make them feel truly powerful.
Carried Over from Act 7
Adrenaline Rush
The Attacker gains up to 100% Damage Reduction at all times, scaling with their current Adrenaline. Adrenaline is gained after being Struck.
Hold the Line
The Attacker gains up to +80% Block Proficiency at all times, scaling with their current Adrenaline. Adrenaline is gained after being Struck.
Brand New!
Pulling Rank - 6-Stars
6-Star Attackers gain a permanent Attack Bonus based on their Rank ranging from +100 to +2000.
ARMED AND DANGEROUS
Story Quest content likes to bring interesting new challenges to our Summoners, and Act 8 will be no exception! Using what we've learned from Class Nodes, Superiority, and Paradox, we've come up with another set of nodes that aim to offer the engaging gameplay we strive for without overloading or alienating our Summoners.
We'd like to introduce everyone to -
WEAPON NODES!
WEAPON NODES are special Buff Nodes that g
ive the Defender a unique and dangerous beneficial ability
, which itself is nothing new. What sets Weapon Nodes apart from regular old Buff Nodes is the addition of DISARM and UNARMED NODES.
DISARM NODES
allow attackers to disable Weapon Nodes on Defenders by performing certain actions, such as Well Timed Blocks, Wall Knock-Downs, or Intercepting. Once "disarmed", the Weapon Node will go on cooldown for a short period of time before reactivating. When a Weapon Node is disarmed, any effects gained or inflicted by it will be removed from both the Attacker and the Defender. When the cooldown ends, the Weapon Node reactivates on the Defender, leaving the Attacker unable to disarm them again for several seconds.
UNARMED NODES
allow Attackers to deal a huge amount of extra damage while the Defender is disarmed and the Weapon Node is on cooldown. Unarmed Nodes are looking for specific effects or attacks to increase the Attacker's damage, such as throwing Special 1 Attacks, inflicting Damaging Debuffs, or striking the Defender's Block.
Opponent's wielding Weapon Nodes are a little heartier than other Champions on the Quest Map, so we'd recommend playing into the awesome damage bonuses of Disarm and Unarmed Nodes for the best results.
Lastly, there are of course a parade of new nodes mixed in with existing favorites, but we'll leave you to find them in-game.
WHERE POISON'S WELCOME…
Act 8 Chapter 1 opens with Carina attempting to reassemble the Avengers, but her attempts at peace are thwarted by a saboteur operating among the very heroes she's trying to save! Who is this snake in the grass lurking amongst Carina's allies? Find out yourself by challenging
BLACK WIDOW SCYTALIS - AGENT OF OUROBOROS!
This brand new custom MCOC villainess is ready to rumble with an arsenal of tricks and traps capable of eliminating even the most resilient of targets. Will you outwit this shadowy assassin and emerge victorious, or wind up ensnared in the fangs of this deadly foe?
FROM RAGS TO RICHES
Act 8 Chapter 1 features Path Rewards, Completion Rewards, and Exploration Rewards. Check them out below!
Chapter 1 Completion Rewards
22 500x Tier 3 Alpha Catalyst Fragments
28 500x Tier 6 Basic Catalyst Fragments
1x 6-Star Rank up Gem 2 > 3 Crystal
25x 6-Star Signature Stone Crystals
20 000x 6-Star Champion Crystal Shards
1 500 000x Gold
Chapter 1 Exploration Rewards
1x 6-Star Rank up Gem 3 > 4 Crystal
1x 6-Star Awakening Gem Crystal
30 000x 6-Star Champion Crystal Shards
50x 6-Star Sigup Stones
1x Tier 6 Class Catalyst Selector (14 250 Fragments)
3 000 000x Gold
Quest Completion and Exploration Rewards
10x Tier 5 Class Iso (different for each Quest)
15x Tier 6 Class Iso (different for each Quest)
Path Rewards
These rewards can only be picked up on paths inside a given Quest once.
2x Unit Pickups (45 units each)
2x Gold Pickups (100 000 Gold each)
2x Tier 5 Class Catalyst Crystals (25%)
2x 6-Star Shard Pickups (2000 shards each)
2x Tier 2 Alpha Catalyst Fragment Pickups (54 000 Fragments each)
2x Tier 5 Basic Catalyst Fragments Pickups (33 750 Fragments each)
RELEASE DATE
You can expect Act 8 Chapter 1 to go live on Wednesday, September 21st at 10:00AM PST.
FINAL WORDS
We'd like to take a moment to thank everyone who came out for our Act 8 Chapter 1 Beta. Community feedback and support helps us stay the course on keeping Story Quests an exciting, engaging, and exemplary experience for all of our players. Book 2 Act 2 is well under way, and we're looking forward to hearing from everyone on how you find the start of this exciting new Act of Story Quest content.
As always, thank you for your patience, passion, and participation.
Good luck Summoners!