Galan Cosmic Seed and Heralds Practicality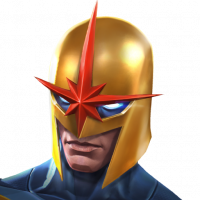 altavista
Posts: 799
★★★
Looking over his kit, I have two questions related to his Herald mechanic.

1. Is there any real drawback to Galan using up his Solar Intensity to create a Herald? It is looking like mainly his Energy/Physical resistance and Fury from SP1 would not be as potent.

As a point of reference, Apocalypse spending 4 Genetic codes to create a Horseman, removes Apoc's damage (prowess), ability to place two buffs at once, and loses ability to stun. This is a big trade-off. As another point of reference, Odin is not affected at all by using his Cross-Fight abilities, so there is no trade-off. Is this loss of extra potency something to worry about or just ignore?

2. In normal use, how practical is it to create a Herald? It seems to requires 1 fight using Galan, 2 fights with a Cosmic champion to gain the utilities of being a herald, and then 3 more fights to gain 5*7=35% resistance to DoT. So essentially, that is 6 fights to maximize the Herald. With the current quest design, the quest is either already over or you are at the Boss. Additionally, you may not see the benefit before suffering the drawbacks (similar to how Apoc needs to be bled before becoming immune). For example, if you are taking a Biohazard lane, you have Galan experiencing bleed/poison with no DoT resistance for 1 fight, Silver Surfer experiencing bleed/poison with no DoT resistance for 1 fight, and then Silver Surfer experiencing bleed/poison with 7%*X DoT resistance for the Xth numbered fight.

I see the benefit in longer form content (like Abyss or Gauntlet), but for regular use, is there a practicality there?
Note: I am ignoring the benefit that specific Herald synergies give, for the purpose of this question.