Opinions on Infamous Iron Man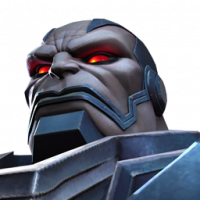 Dragfire1760
Posts: 148
★
He's been out for a while now and I just got him from the featured 5-star, I have to say he's really fun to play but a little disappointing
As a defender he hasn't much going on for him, other than the somewhat annoying regen+special lock when he's below 15% health but that's okay not every champion has to be very annoying on defense. The real problem is that he's not extremely viable on offense either. His animations are amazing, and the playstyle is also very smooth but the damage is just lackluster. While I wouldn't be surprised if Kabam announced that they're keeping him as-is in the contest, I'd be happier if they decided to tune his numbers up just a bit.
What else do you guys feel about the highly anticipated iDoom?