Get a Free 3-6 Star Baron Zemo this Week!
Log in to the Summoner's Market at
https://store.playcontestofchampions.com/
and claim the Baron Zemo Selector between 10am PT November 24 and 10am PT on December 1st.
Proven and Below: 3-Star
Conqueror/Uncollected: 4-Star
Cavalier/Thronebreaker: 5-Star
Paragon/Valiant: 6-Star
You can only claim this Baron Zemo one time. The Baron Zemo is delivered as a selector, claiming it will require you to choose your rarity immediately. If you plan to change your Progression level during the Cyber Week event, we suggest you wait until you have made that change before claiming this selector.
Yondu healing bug [Under Investigation]

MegaSkater67
Posts: 1,376
★★★★
Tested this a few times now and it's pretty easy to get similar results. After getting a few stacks of weakness on the opponent after they use a special, allowing them to hit you can give you chunks of health back. At first I thought maybe he was weakened enough to give the opponent a negative attack rating and rather than damage me, give me health instead. But I really don't think that's the case and it's instead some weird bug. Doesn't appear to work through blocks and there are no green numbers to indicate healing of any kind. The health bar just jumps up randomly. Sometimes big jumps, sometimes much smaller ones. I have a video of his happening against iron man in the Chadwick challenge. Quest 4 path D.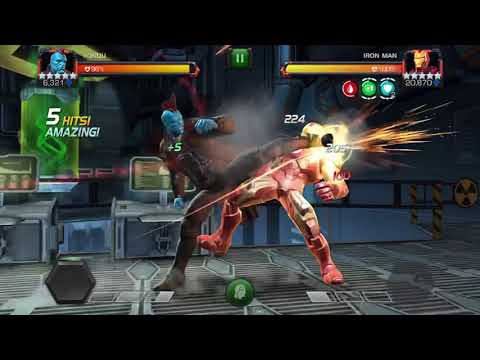 https://youtu.be/SWO_TSs0-7Q
Post edited by Kabam Vydious on