**UPDATES TO ENLISTMENT GIFTING EVENT:**
To prevent exploitation, we will prevent new Accounts from being able to Gift enlistment crystals. We will also be taking action on those who are using 3rd Party Sellers, Bots and other farms to gift themselves mass amounts of Enlistment Crystals. Lastly, we will be adding an expiration timer to Enlistment Crystals. All unopened Enlistment Crystals will expire on Oct 18 @ 17:00 UTC. For more information, please see this post:
https://forums.playcontestofchampions.com/en/discussion/346104/updates-to-enlistment-gifting-event
**KNOWN ISSUE**
We have adjusted the node placement of the new AW maps to better allow path traversal. As a result, defender placements have been reset. Please, take a moment to re-place your defender setup. We will be pushing out a message in-game shortly.
Kabam, you pretty much set an end to the game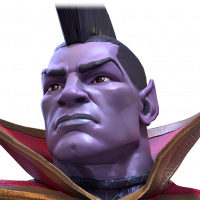 Yotz
Posts: 117
★
The last 10% of the champion in 6.2 is pretty much un doable for some people and it does not come down to skill only.

Having finished all 3 variants 100%, I found myself bored with the game and decided to try to beat the champion for the third time. After easily getting to him, I spent about 25 40% revives from my stash and 600 units in potions, and found myself once again unable to beat him. I used a 5/65 lvl 180 simbiote supreme.

I use an android, and there's a level of lag that we android users get used to and find acceptable. We get used to it and play around the timing (we also compensate by using a bit extra resources) . However, in the champion fight, to get rid of the indestructible charges, timing has to be perfect, and it is nearly impossible to nail. Doing the technique of going in during the animation does not work because of said lag, even though I do it exactly at the same time as youtubers do it who have beat the champion. I have to eat the damage of blocking and then evading perfectly, and still 2 out of 3 times the charge does not come off. I had a fight in which I had nearly 15 perfect evades and I was still able to get only 4 charges off. I played perfectly trying to get that last charge off and finally died of block damage.

My only recourse is to wait to pull captain America iw some day, even though for the last 5 months I haven't pulled a single good champion out of nearly 50 5* crystals which include 14 namor featured crystals. I have pulled only characters considered mediocre or worse. I have been ranking up only 4* the last 3 months even though I have the resources for 11 5/65s.

As you can see, I am a player who can clear any piece of content, with work an time, but this one is a gate that I and I'm sure many others just can't get through.

Kabam, you have set a gate that is telling us: game is over, move on to another game.

I am always excited by your announcements of new content, for years I have been the one breaking down your posts in my alliance chats, and pumping up everyone... But act 6 has just been heartbreaking. 6.1 was a bit disappointing, simply not fun but I grinded it. When 6.2 came out, it was the saddest experience in my almost 4 years in the game, only beat by your recent announcement of 6.3, because for the first time, I know it is not meant for me. I will never be able to get through it and if that is the case, what is the point of improving my roster, which makes aq and aw pointless. The whole game becomes pointless when there's an unbreakable gate.

Kabam, even though this might prove controversial, I think my suggestion will be understood by many. I suggest that you release a boost that circumvents the indestructible charges of the champion in 6.2. As a trade off, said boost should remove the ability to claim some rewards of beating him. I would happily renounce the rewards if we could simply get through.

More than the rewards, the main satisfactory point of the game is beating content, being competitive, and this one gate is an immovable wall for a big chunk of the community. We will see as people move on to finish act 6 and start act 7, and we are just frozen in the past.

Unless you release a new variant every two months at the very least, I find myself without any more motivation to keep playing. At the very least, I would ask that act 6 is not a gate for act 7 when it comes out.

A large portion of your player base is in
danger of leaving the game just because of that last 10%.