War changes pros, cons and questions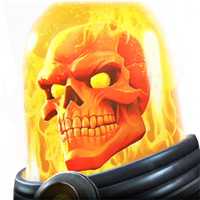 Sungj
Posts: 1,900
★★★★
First off, its great to see changes coming to AW lots of complaining about AW becoming stale and it looks like Kabam really took a lot of player complaints into consideration. Starting off with what I see as improvements, the new boosts look like they will be very valuable and allow you to bring more diverse champions into AW attack. Now OG vision and power control champs won't be the only sure fire counter to the unblockable Sp2 and all or nothing nodes so for players that take that node regularly and only bring in power control champs to counter such nodes it will free up a spot on their team that will be more beneficial overall and I think it is very funny every champ can pretty much be a super charged Luke Cage now. Advanced power will be great with certain champions to counter nodes like all or nothing and increased power gain even more effectively. Magiks, gwenpools and visions will be able to get to their sp2s quicker giving them complete control of the fight early on and combat regeneration is just fantastic for obvious reasons. Secondly, skirmish awards, any extra rewards are great but depending on how substantial these rewards are it could help mitigate a lot of issues with players always running low on gold. With some alliances running AW 3 times a week that could be a lot of extra gold. Finally the changes to the map designs, portals and less linked nodes makes AW much better for the indivicual player now that they will be less dependent of team members that aren't as active to clear linked nodes.

With any big change it is expected there are going to raise concern and have some parts that look to be quite annoying and this change is no different. The first con I can see is one of your mentioned node changes, increased energy damage. The obvious concern for this is magik, with almost every counter for magik you still have to endure one or two limbos before you can get her in control. So with the coming of rank 5 5* this could be quite a bad node depending on how inflated the node makes such magiks. Another concern is the introduction of 5 minibosses before the boss. In the current state of AW if you take out 2 of the mini boss nodes and leave the third you can still be able to take out the boss. Now if all 5 minibosses inflate the boss as much as each miniboss node does currently this could prove very problematic and cause players to spend more units. The final major complaint I can see is the removal of thorns, the removal of the node itself is great but some people have ranked up champions for the sole purpose of placing on such nodes and countering such nodes. People with 5* antmans, 4* luke cages, colossuses, black widows and elektras could be quite salty since most of those champs are not top tier champions and now their value is diminished even more. Champion specific rank down tickets would solve this issue but until those are announced this remains a concern.

Now there are a lot of changes that I put into the questionable territory since there is not enough information to group them as a pro or con. First is the announcement of more information on champs you will be fighting. While to me and many other players who haven't invested in reveal masteries this is a big pro for those who have I see them being salty now that the mastery is next you useless. The biggest question I have right now is with the new scoring system, while more diversity points look to solve the constant same defenders problem we don't have enough information to gauge how war changing this will actually be. Will the points gained be substantial enough to actually change defender choices or will be too insignificant to actually impact defence choices. Another question that I almost put as a con is the removal of defender kills points. This seems like it will give a huge advantage to spenders since now they can just whale through all nodes with no consequences of giving the other team extra points. Again I don't know exactly how this change will play out in reality but for now it is a big question mark for me.

All in all even with all my questions and concerns overall I think these are fantastic changes and its great to see kabam is taking more player base concerns into consideration and keeping to their promise of progressing the contest. I would love to hear what other people think about these changes so please add and respond just please keep the comments civil and don't turn it into a game of flag football.