**UPDATES TO ENLISTMENT GIFTING EVENT:**
To prevent exploitation, we will prevent new Accounts from being able to Gift enlistment crystals. We will also be taking action on those who are using 3rd Party Sellers, Bots and other farms to gift themselves mass amounts of Enlistment Crystals. Lastly, we will be adding an expiration timer to Enlistment Crystals. All unopened Enlistment Crystals will expire on Oct 18 @ 17:00 UTC. For more information, please see this post:
https://forums.playcontestofchampions.com/en/discussion/346104/updates-to-enlistment-gifting-event
**KNOWN ISSUE**
We have adjusted the node placement of the new AW maps to better allow path traversal. As a result, defender placements have been reset. Please, take a moment to re-place your defender setup. We will be pushing out a message in-game shortly.
My Experience Grinding for Aegon...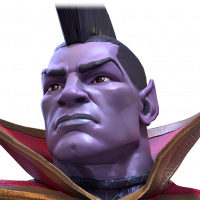 Thewritingwoolf
Posts: 43
★
Hey MCOC Community!
Though it feels like this game has more or less fused with my hands, I regrettably am very inactive with the community and player base that keeps it alive. I guess I'm considered an "end-game player," even though I think titles are silly and everyone has room to grow even if all the current content is fully explored. Anyway, I figured I'd take a second and do a quick recap on what it was like to grind for Aegon this past round.
Let me start by saying that, over the past four years, I've grinded countless times for 5* shards, and have successfully won both 5* Medusa (Round 1) and Venom the Duck (Round 1 + 2). I put up roughly between 37m - 41m each for these three champs. Looking back, it's humorous how "easily obtainable" those numbers are compared to what I'm about to talk about.
My roster was much smaller when I went for Medusa (in 2019), and so I used somewhere around 1500 units in champ refreshing. Things were different when VtD came around, and I thankfully needed use a single unit to put up the (at that point) hefty 41m. I remember feeling so accomplished that I could muster that without needing to dip into my units. And so, when I heard Aegon was coming around, I figured, "Hey, if I could do it before, how much harder could it be this time?"
Well, I was wrong. And I'm not going to sugarcoat it when I say that these past 72 hours were absolutely excruciating. Now, hear me out: this is NOT a rant post, nor is it one designed to simply complain. My observations are only that, and it's likely many will either agree or share their POV.
At the start of the arena, I had 23 R5 5*, 4 R2 6*, 30 R1 6*, and x-amount of R4 5* --> again, this is NOT a brag post. I want to be transparent with what I was working with.
To put it simply: I hit #58 84.8m points. I was ecstatic, but even more so exhausted. Honestly, I was so fatigued by the experience. Maybe others thought differently depending on their finances (for units) / roster size (for points), but it was a feat that I'm sort of humbled by. And I mean that both negatively AND positively. Does it feel good to win something you worked hard for? Of course! But did I enjoy waking up at 3:30am, playing over and over until my eyes blurred and my hands went numb? Heck no. Some folks have asked about my win streak, but I lost it so many times it was hard to say; mostly I fell asleep during fights, to the point where I'd close my eyes during S3 for a blink of rest.
I think all my emotions / senses were paused over 72 hours. I didn't really eat or sleep for fear of wasting time. Sounds insane, I know, but when you've invested so much time (or money!), the idea of falling short is sort of mind-numbing.
Now...I've watched some YT videos and read some forum posts, and I very much agree that certain people (those who already HAVE a 5/6* awakened Aegon) shouldn't have gone for him. There are only 150 "winning" spots, so the fact that someone who really needed the champ fell short to someone who already has him puts a very, very sour taste in my mouth. For all the hours and units and boosts invested into this horrific grind, I don't think anybody should fall short. Does that mean that someone putting up 45m should get the same as someone who put up 90m? No, I suppose not, but I also don't know the "right" answer when it comes to arena.
Halfway through--right before my boyfriend opened 3 Aegon crystals and pulled a 5* of his own, which almost sent me over the edge of sanity--I contemplated what arena could look like for the future. Sort of like paths that require a certain champ. Maybe one round is dedicated to those who do NOT have the champ in question, whereas Round 2 is fair game for all? Not sure, though I'd love to pick the brains of several CCP players.
Anyway...sorry for the rant. I'm a writer in my personal life, so my love for words often gets the better of me. If you'd like to chat further, or just want to say hi, my in-game name is Thewritingwoolf -- or thewritingwoolf (CT) on LINE. Would love to hear your thoughts!