**KNOWN ISSUE**
Currently, Alliance Prestige (as it concerns Alliance Quests) is not taking Relic Prestige into account. If possible, we are working to address this for the next round of Alliance Quests but will have more information for you when it is available.
I am stuck !!!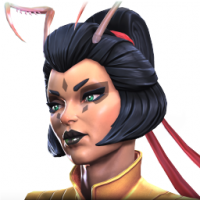 Dashamtvamasiay
Posts: 81
★
I am stuck in act 6.1.6 at the sentinel boss. I took the all or nothing path and wrecked majority of the opponents in this path with stark spidey but that electro !! My stark spidey already took a lot of block damage ( I don't keep evading for the whole fight) and that electro killed all my champions! So I used a team revive there and then now I am stuck at the sentinel boss (he's at 60% health now) .
I want to complete this as soon as possible(within 2 days) , so that I can do a couple more of hotel modoks and get that cavalier offer of 15k shards in the store.
So my questions are:-
1)is it possible to grind enough arena in 2 days to reach 200 units for revives?
2) how should I be fighting this sentinel, blocking him or fully dodging and baiting him?
3) should I use those 200 units on 2 team revives or individuals revives on Corvus(5/65)?